When I was young and thought autogenic training was for warmists
Hello, my name is Klemens. I've been an online marketer at Vitalmonitor since September. And since yesterday there is this blog, which I immediately use for self-reflection.
Flashback: September 2014. My first day of work at Vitalmonitor. My boss Martin hands me one and tells me that I can use it to measure my stress level, bio-age and regeneration status. I take his word for it. First, because I can't prove him wrong (I believe things only when I see them myself) and second, because I have read statements from about 20 athletes who say the same thing. So I first measured for 2 weeks so that I could get meaningful values out of the thing. So in mid-September I then had values - and they were rather lousy!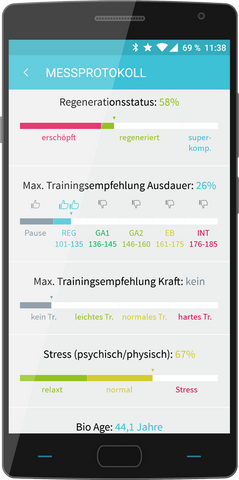 It was noticeable that I often had very high stress values. So I went to Berny, our medical director, with my bad values and asked him what I should do now. He suggested autogenic training, which at first seemed rather esoteric to me as a sensible person (in addition, of course, I didn't know what it was exactly). After Martin confirmed the effect, I decided to sign up for a course at the university (besides my job at Vitalmonitor, I'm still writing my diploma thesis - probably the reason for my high stress level).And here's the thing: Despite my initial rejection, I was totally relaxed after the first session. I slept better than I had in a long time. And it wasn't just my subjective feeling that confirmed this; my stress levels also plummeted. And not only after the first session. I had the same good feeling again after every single unit. Once more and once less, but each time I was much more relaxed than before. Here are my stress values from 10/22 and 11/5 (in the morning and after the autogenic training).

Conclusion
Autogenic training really works! The only problem I have now is the regular practice. Otherwise it will be nothing with the long-term stress reduction!
Do you have experience with other relaxation techniques? What have you already tried and what helped you the most? Leave your comments below!
---